Shipping>>Worldwide Express Shipping Available
Over$36.98Free Shipping
Payments Via PayPal® and CreditCard.
Delivery time: Worldwide 8-12 workdays
Please contact us(geartop-store@outlook.com), if you need assistance
Charge your Apple Watch Anytime, Anywhere!
Charge your Apple Watch with this fantastic Magnetic watch charger. Make tangled cords a thing of the past, with this easy plug and charge gadget. Quick charge from 0 to 100% in 2 hours. Portable, lightweight, with built in heat and shock absorption. Charge your Apple Watch anytime, anywhere!
Features:
2 Hour Quick Charge
Magnetic holder with shock absorbtion
Eliminates tangled cords in bags/pockets
Heat sink for cooler operation
Charge anytime, anywhere!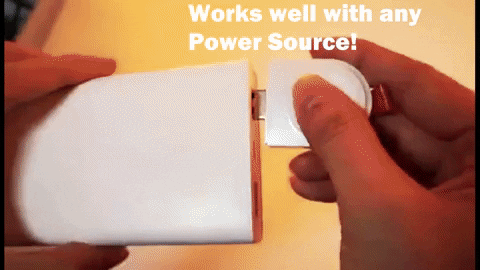 LIMITED STOCK – Only 100 Units Available.
"Very convenient and works great for my Apple Watch" - most of our customers commented. This is must-have charger for any Apple Watch. It is so valuable. Many of our customers purchased at least two items.
How would you use them if you purchase two items?
See other customers' reviews below for reference.
Key Customers' Reviews:
*S.Lieu: "This portable Apple Watch charger is really cool! Now I don't have to lug around my cord. This is very useful for traveling and also for days when u forget to charge your watch the night before. I just leave it in my car and if I forget to charge my watch I connect it to s portable charger and I'm good to go! Definitely recommend this to anyone owning an Apple Watch. Great gifttoo!"
*Lala Esco: "I bought this charger because it looks so convenient and easy to travel with. I can just plug it anywhere and take it with me. I have it next to my bed and it's easy to reach and be out the door."
* Andrea: "I love this portable charger! I have it plugged into my bedside table lamp. I'm no glad I could eliminate a cord!!"
* Debra: "So easy to use . I take it camping with me and it works great."
* Alvin: "I was really excited to receive this charger. I used it plugged into a powerbank and my computer no issues at all. it can plug and play, and the convenient and portable feature. So it maybe good for the people who travel frequently. Recommended."
* Vanessa: "It work well with my watch series 4. I will buy again. thank you!"
*Andy: "This is an awesome product design. Makes it super easy to leave in my backpack for on the go charging."
Magnetic charging design: Easily dock your Apple watch with shock absorption and high temperature resistance. Strong magnetic Adsorption allows you to adjust the angle freely without deviating from the charger center.
USB Port Charging (Cable-Free): Do not need extra charging cables. Just simply plug it into any USB charging devices (socket, laptop, car, powerbank...) then will begin charging.
Easy to carry: Mini portable apple watch charger with lanyard design, you can hang it on your bag or put it in your pocket, or wallet and charge your watch at home or where ever you go - in your car, office or hotel.
Original charging speed: Offers a fast original charging speed for your Apple watch series 1 2 3 4; The apple watch charger offer a fast original charging speed which less than 2 hours.